why choose the grange?
For you...
At the Grange we all work very hard to exceed expectations again and again. We have a unique and flexible approach to each student – we do everything we can to ensure that everyone gets as much from their course as they possibly can. You are in beautiful surroundings, in an uplifting atmosphere, cooking, eating and living food every day. Distractions and stresses can be left behind. There is a sense of community in the lively, fun, genuine, working family environment.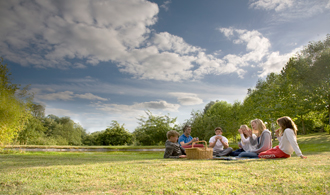 "I believe that cuisine is the most important link between nature
and culture"
Alex Atela, chef in Brazil
The food...
We aim to develop a knowledge and understanding of food and cooking with a love and passion for it which will last a lifetime. We use amazing ingredients – local, seasonal, home-grown, foraged from woodland, field and brook. We have great suppliers - artisans who are passionate about their craft, third generation local butchers, a local organic Jersey herd and eggs from chickens fed on home grown cereal from a nearby arable farm, to name a few.
We have a wonderful Master of Wine who chooses our wines and gives a wine tasting towards the end of the course. We have tastings of ciders, of chocolate and much more. As we encounter ingredients form Asia and the Middle East the tasting continues… and smelling the warmth and wonder of the wide variety of spices from around the globe.
Hippocrates said "let food be your medicine" – the vital colours and flavours in food from around the world can lead to health and happiness – which is the key to life.
...to develop a knowledge and understanding of food and cooking with a love and passion for it which will last a lifetime...
We teach you to make fantastic food from simple ingredients or to be creative with complex flavours and interesting produce, readily available today.
The place...
The Grange is set in a very beautiful part of England, in the rolling Somerset countryside with wonderful gardens and rustic grounds surrounded by fields with a wooded valley and meandering stream.
It is half an hour from the Georgian city of Bath and one to two hours from London. The quaint market town of Frome is ten minutes away, and it is surrounded by picturesque villages. The Dorset, Devon and Cornish coasts are within easy reach. Britain has a central role internationally on the world food stage, and The Grange leads at an international level. Many students travel from around the world to spend a month on the Essential Cookery Course.
Our home is an old Somerset farmyard, which we have converted over the past twenty years into what you see here today.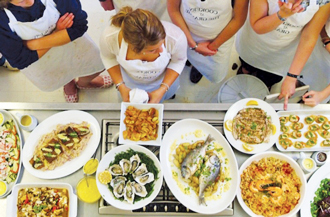 Have we convinced you? Please contact us for any further information or help you would like at all, we are in the office Monday to Friday, from 9am to 5pm.


We cook unpretentious, good food, rustic cooking!